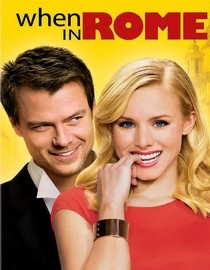 "After fishing out coins from a water fountain in Italy, cynical New Yorker Beth Harper (Kristen Bell) finds herself being wooed by several ardent suitors. As she deals with the attention, Beth tries to figure out whether a charming reporter (Josh Duhamel) really loves her. Danny DeVito, Anjelica Huston, Jon Heder, Dax Shepard and Will Arnett also star in this romantic comedy. Mark Steven Johnson directs."
This is the kind of movie that you know you will like. Its kind of traditional Rom Com, but has its refreshing elements. Danny Devito is hilarious in it, everytime i see him now I just think of his character from 'Always Sunny in Philadelphia' plus he's so tiny he doesnt have to say anything and hes funny.
Its a little predictable of a movie, but not so much that you can't enjoy it. it has fun elements and the characters are great. Jon Heder (Napoleon Dynamite) is really classic and he brings in a guest star of Pedro from Napoleon. The only thing is that I can never take Kristen Bell as an older sophisticated character. Her look is too young for me, in this movie shes supposed to be this up & rising business woman and she still looks like a highschooler too me.