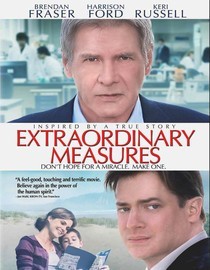 "After their two young children are diagnosed with a rare genetic disease for which conventional medicine has no cure, John (Brendan Fraser) and Aileen (Keri Russell) pin their hopes on the work of unconventional scientist Dr. Robert Stonehill (Harrison Ford). Director Tom Vaughan's heartfelt drama is based on the true story of the Crowley family, as chronicled by journalist Geeta Anand in her book The Cure."
I really liked this movie because I could relate to it on a medical/health level. But even beyond that its a very entertaining and motivating story. I thought Harrison Ford was a weird acting choice for this role, I guess its pulled off in a way. Knowing its a true story you just have to accept thats how Dr. Stonehill really is, if it was a written script I would be saying "no Dr. would act like that."
I thought it was a great way to bring attention to the disease, (Pompe) and I would LOVE if it was my disease (so i'm sure people affected by Pompe are thrilled about this, and thats great.) I would have, however, liked to know more about the disease. I feel they liked on that but it was such a big story they had to figure out what to put into scipt and what to leave out and they figure people can google it later.