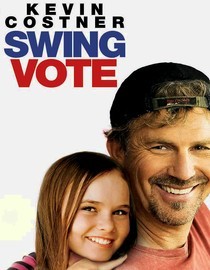 "It's Election Day, and the eyes of the nation have fallen on one beer-swigging couch potato named Bud Johnson (Kevin Costner), who, through no fault of his own, finds himself in the position of being able to single-handedly choose the next American president. Kelsey Grammer, Nathan Lane, Stanley Tucci, George Lopez and Dennis Hopper also star in this political satire from writer-director Joshua Michael Stern."
I think I was a little disappointed with this movie. I was expecting more from it. I think because I know it would never happen (not the country being split by one vote, which isnt actually what happens, but you'll see what I mean when you see it.) I will tell you now it has a horrible ending, but actually now in retrospect I suppose it couldnt have happened any other way.
the acting however, is great. Kevin Costner's character is so much fun and is such an endearing screw-up. His daughter is an amazing little actress and I hope she can go far after this role because she did great and I believe its her first big role (the credits said "introducing") which usually implies first role.
I wouldnt bend your back to watch this movie, but if you get a chance and theres nothing else to watch, go ahead.