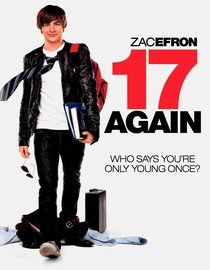 "On the brink of a midlife crisis, 30-something Mike O'Donnell (Matthew Perry) wishes he could have a "do-over." And that's exactly what he gets when he wakes up one morning to find he's 17 years old again. With his adult mind stuck inside the body of a teenager (Zac Efron), Mike actually has the chance to reverse some decisions he wishes he'd never made. But maybe they weren't so bad after all. Leslie Mann and Michelle Trachtenberg co-star."
I of course ordered this movie for Matthew Perry (I'm a fan of any 'friends' star) however, if you're going to see this movie because of him, dont. his role is actually fairly small in the scope of things.
However, I was surprised to love Zac Efron. He's a surprisingly good actor and I was totally blinded by that by his start with Disney. I think Disney can be very unfortuante and can really hinder and stereotype an actor and its really hard to break from that mold.
The story has somewhat been done before but its still refreshing and still entertaining theres alot of good actors in it and its very relatable on many levels.