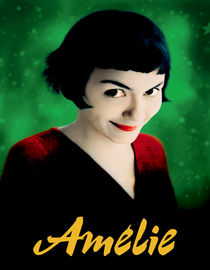 "When impish gamine Amélie (Audrey Tautou), who lives alone, finds a long-hidden trove of toys behind a baseboard in her apartment, she's inspired to repatriate the items, an impulse of generosity that sparks more benevolent acts. A celebration of life and love, French director Jean-Pierre Jeunet's Oscar-nominated charmer stresses the importance of small wonders that surround us, if only we paused to look."

OMG! I LOVED THIS MOVIE! I never watched it because the poster she kind of looks creepy and I thought it was a scary movie and it was my hair stylist who told me about it and said its a great story.

it is a french movie so obviously the whole thing is subtitled which was a little shock at first but french is such a beautiful language I like hearing them speak it.

Its a great story, you're totally affected by the characters and they are so endearing the way the movie is shot, is brillant and fun and I dont think I've ever been so enamored with a movie and what was going to happen. its totally original, its totally unique its in NO way predictable

and hey, the travelocity commercials where the gnome is sending pictures from its "travels" is from this movie. haha.