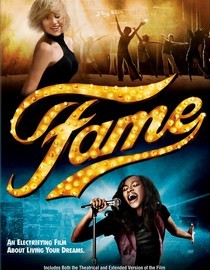 "When a group of ambitious teenage dancers, musicians and actors enter a new semester at New York's prestigious High School of Performing Arts, they try to make the most out of their chance at stardom in this remake of the Oscar-winning 1980 drama. Director Kevin Tancharoen's energetic update stars Asher Book, Kay Panabaker, Anna Maria Perez de Tagle, Naturi Naughton, Kherington Payne and Collins Pennie."
The previews for this movie were much more interesting and make it seem like its a different story than it is. I thought it would be a lot more talent, the singers in the show were alright, but they probably wouldn't even get through American Idol, the dancing was good but they didn't show enough of it I felt. What I did like was that it wasn't just about how talented everyone could be, it was about the reality. the scams, the betrayals, the failure, the honesty.
the ending performance on the graduation day was amazing though, the lighting, the combination of all the different styles were great. I hate Panabaker though she used to do disney channel movies and I don't think shes very talented and she looks so young I felt like she was in elementary school and I get really annoyed when they cast really young looking actors in older roles (like the roles Kristen Bell has been getting lately) be smart about it, play the Matthew Broderick card.
I am aware its a remake but I never saw the original from the 80's and I never saw the TV show if it is related to the movie.