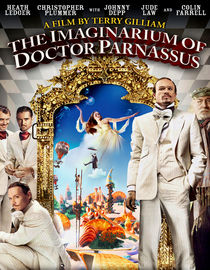 "Christopher Plummer and Heath Ledger star in this quirky fantasy from director Terry Gilliam. When a deal with the devil comes due, the immortal Doctor Parnassus (Plummer) must renegotiate the pact to save his daughter. Now, with the help of his mystical theater troupe and a mysterious stranger, Parnassus attempts to right the wrongs of his past. The Oscar-nominated film is Ledger's last, with Johnny Depp, Colin Farrell and Jude Law all completing his role."
courtesy of netflix
I watched this movie solely for the reason that it was Heath's last role but I didnt know much about the movie; I had no idea Jude Law, Colin Farrell and Johnny Deppall played his role to complete it. It was amazing how it actually got pulled off, normally those 4 guys don't look that similar but in this movie it works out. It's a kind of slow movie, its a little boring, its not as crazy as it seems its going to be and Heath isn't in it that much so if you're a huge fan you're watching it because its his last movie but he really isn't in it that much.
so if you have nothing else to watch, then maybe you should watch it, but don't move it to the top of your netflix queue, its not worth it.