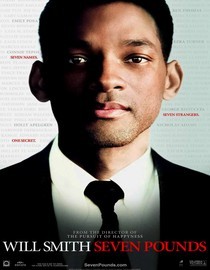 "An IRS agent with a fateful secret embarks on an extraordinary journey of redemption by forever changing the lives of seven strangers."
courtesy of imdb.com
.
.
do NOT read the netflix synopsis, I didn't read it until after I saw the movie and I think it would ruin the movie for you, watch the movie knowing as little as possible.
.
.
I'm going to start by saying I LOVED this movie, it was one of the most inspiring movies I've ever seen. For a lot of the movie I was confused, and I almost started to be annoyed by my lack of knowledge of what was going on but I had a feeling that in the end, it would be worth it, and it was. This is one of the most honest movies, maybe not in a true sense (I doubt anyone has or ever will do what his character did in the movie.) but honest in the heart of the story. Its one of those movies that almost makes you feel like shit because your not as a great of human being (that sentence will make more sense after you've seen the movie.) but makes you inspired to almost want to be as great as him (almost, because I can't actually do what we did - that will also make more sense after you watch the movie.)
.
.
I'm also going to say that it took me awhile to watch this movie, I had it sitting in my netflix queue for months, and its available on the instant watch; I watched boring documentaries before I watched this movie, there was something about it that I just wasnt sure about. I know my mom said she fell asleep watching it (which she does often) and without seeing the end of this movie, the whole thing would never make sense, So a lot of people said this movie was "weird" or "complicated" and its only that if you don't watch the whole thing without interuptions. I have a feeling if you watched this movie over more than once, you would catch something new everytime. I almost wanted to rewatch it immediately to go back and understand things more.
.
.
I highly recommend watching this movie.