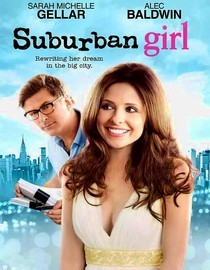 "
Neophyte book editor Brett Eisenberg (Sara
h Michelle Gellar) is paying her dues in New York's literary world when she catches the eye of Archie Knox (Alec Baldwin), a publishing mogul who's several decades her senior -- and has quite the reputation as a womanizer. Director Marc Klein based the script on two short stories from author Melissa Bank's best-seller, The Girls' Guide to Hunting and Fishing." courtesy of netflix


i really liked this movie, I wasn't positive that I would but although I think Alec Baldwin is really creepy he does good movies and I like Sarah Michelle Gellar, the concept was fun and its not as predictable as you would think - not that its a big shocker movie, its just a feel good fun movie and its definitley fun to watch. i definitley recommend it, especially if you are a book lover (since they are book editors) but there is something nice and refreshing about having a young girl date an older guy and not have at be as taboo as movies always want it to be, its like its so natural in this movie, which it should be...in their case anyways.